Crawl Space Insulation Specialists Serving Elkhart, Granger and Greater South Bend
In this video, Dr. Energy Saver solves home comfort problems caused by an unsealed, uninsulated crawl space. Watch to see how to make your crawl space more energy efficient!
The Benefits of a Crawl Space Insulation:
When combined with adequate home insulation, effective crawl space insulation minimizes outside air infiltration, helping your HVAC System perform at its best
You'll recoup the cost of insulation and save money you would otherwise spend cranking up your AC or furnace.
Mold, allergens and dust will stay out of your ventilation system, keeping the air in your home the cleanest it can be!
Prevent mold & moisture damage with the right crawl space insulation
Crawl space insulation is important for many reasons. A number of comfort and energy problems can be caused by inadequate or incorrect crawl space insulation.
In addition to installing the right type and right amount of insulation, it is also important the the insulation be installed correctly. The crawl space can be wet and damp, so the insulation installed must be able to hold up in these conditions.
The experts at Dr. Energy Saver by Monroe Restoration will inspect the crawl space, seal air leaks, and install high-performance insulation to help improve your home's comfort and energy efficiency.
Our crawl space insulation services:
Free crawl space inspection and evaluation.
Free Estimate for crawl space insulation installation.
Air sealing to improve comfort and energy efficiency.
Installation of rigid foam insulation for insulating crawl space walls.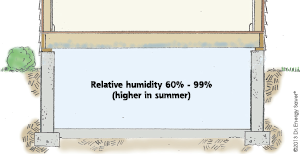 Crawl spaces, especially those with dirt floors or moisture problems, are wet in summer and cold in winter! Crawl space wall and floor insulation can solve all that!
Signs of crawl space insulation problems:
The floor above the crawl space is unpleasantly cold in wintertime.
During cold weather, you have to keep the heat going nearly all the time to be comfortable in rooms directly above the crawl space.
Mice or other pests have taken up residence in fiberglass insulation installed between joists in the crawl space.
Fiberglass batt insulation has fallen out of place from between floor joists in the crawl space.
The crawl space smells moldy or has visible signs of mold.
The crawl space is damp all the time.
Many homes have the wrong type of crawl space insulation
The old-fashioned way to insulate a crawl space was to install fiberglass batt insulation between joists and vent the crawl space so outside air could circulate beneath the house.
Unfortunately, this combination usually leads to the problems listed above. Fiberglass insulation doesn't respond well to the moist conditions that can be found in a crawl space.
The cotton-like material absorbs moisture, gets soggy, compresses and loses R-value. Fiberglass batts often end up on the crawl space floor in a soggy mess. The main advantage of fiberglass insulation –low cost—is totally negated when the material ceases to perform its main function.
Benefits of Rigid Foam Crawl Space Insulation
Stable and reliable. Unlike fiberglass insulation, rigid foam won't compress, fall out of place or lose its R-value over time. It's definitely a "once-and-done" improvement.
Effective air sealing. When joints between foam panels are taped, rigid foam stops air leaks that can waste energy. Fiberglass insulation can't stop air movement.
Moisture-proof. Rigid foam won't absorb moisture or be damaged by it.
Unfriendly to mold. Mold can't take hold on rigid foam because it contains no organic food source and it doesn't hold moisture.
Better ductwork performance. Ducts located in the crawl space benefit from rigid foam installed against crawl space walls.
Rigid foam panels outperform fiberglass in the crawl space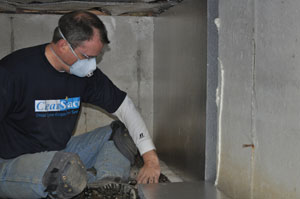 Looking good & lasting long. Rigid foam insulation can't be damaged by moisture and won't degrade in appearance or R-value over time. In a crawl space, it's usually installed against the interior face of foundation walls.
Rigid foam insulation performs much better than fiberglass in a crawl space. This type of insulation is manufactured in panels of different thicknesses. Installers cut the panels to fit against the interior face of crawl space foundation walls. Panels are secured with adhesive or mechanical fasteners.
We typically insulate crawl space walls with foam board insulation. This brings the crawl space inside the building envelope, which improves overall home energy performance. This will also help make rooms above the crawl space more comfortable and can help lower heating and cooling bills.
Although rigid foam insulation costs more than fiberglass insulation, it's less expensive when you consider that you'll never have to clean up or redo a mess of damaged, ineffective installation. Rigid foam will deliver the same performance and benefits in 15 years as it does on day #1.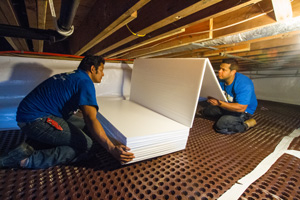 Top performance. Covering the crawl space floor with TerraBlock™ insulation creates a durable thermal and moisture barrier.
TerraBlock™ insulation is flexible and strong for use on crawl space floors
Does your crawl space need insulation on the floor as well as on the walls? TerraBlock™ insulation has what it takes to handle tough crawl space conditions. It's made from a special type of rigid foam insulation that is flexible enough to install over rough, irregular crawl space floors. Faced on both sides with durable vinyl, TerraBlock™ insulation has excellent puncture and abrasion resistance.
In addition to providing extra insulation value, TerraBlock™ creates a clean, comfortable floor for homeowners and service pros who need to move around in the crawl space.
Dr. Energy Saver by Monroe Restoration is the local expert for crawl space insulation
Call 1-855-764-5270 or contact us online to schedule Free Estimate for basement or crawl space insulation in Mishawaka, Goshen, Michigan City, South Bend, Elkhart, and nearby including Osceola, Nappanee, Middlebury, La Porte, Warsaw, Granger, and more. Dr. Energy Saver by Monroe Restoration is a trusted insulation company serving Greater South Bend.
We also offer a comprehensive home energy audit, which we use to fully diagnose the causes of your home's energy issues.
Looking for a price? Get a no cost, no obligation free estimate.